<div class="g_call_to_action" style="text-align: center; padding: 20px;"><p> <strong>STAY UP TO DATE : </strong>READY TO TAKE THE INITIATIVE & JOIN OUR NEWSLETTER? <button id="g_subscribe_btn" type="submit" class="et_pb_button">Subscribe</button></p> </div> <div id="overlayWrap" style="display: none;"> <div id="overlayContent"> <span id="close_overlay">x</span> <p><!-- Begin MailChimp Signup Form --> <link href="//cdn-images.mailchimp.com/embedcode/classic-10_7.css" rel="stylesheet" type="text/css"> <style type="text/css"> #mc_embed_signup{background:transparent; clear:left; font:14px Helvetica,Arial,sans-serif; } /* Add your own MailChimp form style overrides in your site stylesheet or in this style block. We recommend moving this block and the preceding CSS link to the HEAD of your HTML file. */ </style><div id="mc_embed_signup"> <img src="https://rickmgoldberg.com/wp-content/uploads/2016/09/g_white_logo.png" width="100" alt="Goldberg White logo"><form action="//rickmgoldberg.us13.list-manage.com/subscribe/post?u=4a1818bdb09f810b0592549f6&id=2bf493d0d5" method="post" id="mc-embedded-subscribe-form" name="mc-embedded-subscribe-form" class="validate" target="_blank" novalidate> <div id="mc_embed_signup_scroll"> <h2>Subscribe to our mailing list</h2> <div class="mc-field-group"> <input type="text" value="" name="FNAME" class="" id="mce-FNAME" placeholder="First Name" required> </div> <div class="mc-field-group"> <input type="text" value="" name="LNAME" class="" id="mce-LNAME" placeholder="Last Name" required> </div> <div class="mc-field-group"> <input type="email" value="" name="EMAIL" class="required email" id="mce-EMAIL" placeholder="Email" required> </div> <div id="mce-responses" class="clear"> <div class="response" id="mce-error-response" style="display:none"></div> <div class="response" id="mce-success-response" style="display:none"></div> </div> <!-- real people should not fill this in and expect good things - do not remove this or risk form bot signups--> <div style="position: absolute; left: -5000px;" aria-hidden="true"> <input type="text" name="b_4a1818bdb09f810b0592549f6_2bf493d0d5" tabindex="-1" value="" > </div> <div class="clear"> <input type="submit" value="Subscribe" name="subscribe" id="mc-embedded-subscribe" class="button"> </div> </div> </form> </div> <script type='text/javascript' src='//s3.amazonaws.com/downloads.mailchimp.com/js/mc-validate.js'></script> <script type='text/javascript'>(function($) {window.fnames = new Array(); window.ftypes = new Array();fnames[1]='FNAME';ftypes[1]='text';fnames[2]='LNAME';ftypes[2]='text';fnames[0]='EMAIL';ftypes[0]='email';}(jQuery));var $mcj = jQuery.noConflict(true); </script> <!--End mc_embed_signup--> </p> </div> </div>
June 12th | THE WOUNDS OF DIVORCE ON KIDS AS ADULTS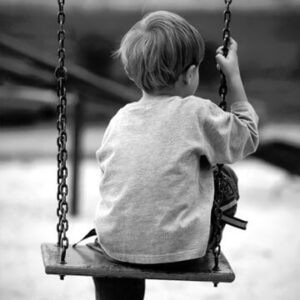 When Rick's son sent him a video of kids talking about divorce, he thought, "You know, we never really get to see the other side of the impact divorce on kids." Beyond the happy talk that reassures parents going through a divorce, kids have to learn by themselves how to travel between two worlds and make sense of them: "mom world" and "dad world." Rick goes straight to the phones in this episode to hear from adults of divorced parents. How did your parents' divorce affect you not only as a child but as an adult? Listeners hear how deep wounds can become one's greatest gifts … how a father hung on to a marriage for 20 years for the sake of the kids … how an older child of divorced parents tries to make a woman her father had an affair with – and later married – a part of her life … how the daughter of addict parents gravitated to unavailable partners … and how as a teen and adult, a child learns to equate fighting and chaos with love while her parents reconciled for her sake.

Show Transcript
[Start] [0:00:23]
Segment 1
Rick: Hello everyone and thank you for tuning in to Divorce Talk Radio this morning. I'm Rick Goldberg and I'm super grateful you selected our show to wake up to on this Sunday morning whether you're heading to church, grabbing breakfast, driving to the gym or just hanging at home, I'm glad you're here. I'll be the host for the next hour as we talk about all things divorce.
Now, this is a call-in show. So if you'd gone through a divorce, going through a divorce now, or even thinking about divorce, call our number here at 713-212-5950.
Sitting in with me on Sunday as usual is my good buddy, Michael Garfield. Hey Garf, what's up?
Michael: I tell you what man, that's a good show open. You hit the phone number. You talked what's going. I'm just going to kick my feet back and listen because this is good advice and you're a few months into this, Rick. I see it not on – I hear you on air obviously with you but your Facebook, you're getting the marketing thing. So maybe a little of me is rubbing off on you so it's very nice and we've already got callers calling in, so good subject. And I understand when you launched the show what you were trying to do and you're reaching those goals brother and doing it very well.
Rick: Well, thanks man. I appreciate that. A couple of weeks ago, my son sent me a video of kids talking about divorce. And I thought, you know, we never really get to see the other side of the impact divorce on kids. And even in a good divorce in which parents amicably minimize their conflicts, children of divorce inhabit a more difficult emotional landscape than those that come from intact families.
In fact, according to a new survey that came out, I just saw it the other day, 1,500 people between the ages of 18 and 35 were surveyed. All the happy talk about divorce is designed to reassure the parents but it's not really the truth for the children. So even in a good divorce, the child unfortunately is traveling between two distinct worlds, the mom world and the dad world. And unfortunately, it becomes their job, not their parent's job to make sense of these two worlds.
Well, I can't bring kids on the show between 8 and 12. That just wouldn't really be appropriate, right? But I thought what would be appropriate, what would be fascinating is to hear from our listeners regarding their parents' divorce and how it impacted them as a child and how it might be still be impacting them as an adult today.
And I know we have a caller on with line 2 over there. Why don't we see who is calling in this morning?
Michael: You got it. Let's go ahead and say hi to Eric. Eric, good Sunday morning. Welcome to Divorce Talk Radio. How are you?
Eric: Good morning.
Rick: Hey, Eric. How's it going? Thanks for calling in the show.
Eric: Good morning to you, Rick. Great show.
Rick: Oh, thanks. First time listening?
Eric: First time – well, no. Actually, I've heard a couple shows before and it caught my interest over the internet.
Rick: Oh, super! So, tell me a little bit about your story. Obviously, your parents had been divorced, how did that impact you as a child and maybe how did it steer your life to where you are today?
Eric: I mean I was reflecting on – my parents' divorce I think became every part of who I am today in every respect. And I think a lot of the folks – I'm a divorce lawyer so there's no question in my mind that from my deepest wounds came my greatest gift and one part of me, a lot of the look back at the pain that my parents' divorce might have caused and I've done a lot of work over the years on that and looking at how that impacted me.
And then at some point as an adult, I had an opportunity to embrace that there's actually a gift that came from it. And that when I did the work that I needed to, I can take a look at that part of myself so, it's every part of me.
Rick: How old were you, Eric, when your parents divorced?
Eric: Two, just over two and a half, yeah.
Rick: Did you – were you living predominantly with your mom when that happened?
Eric: Yeah. At that time, my dad essentially did not know how to be a dad. And the typical story, kind of disappeared for a number of years. And I lived with my mom in her very early 20s. And kind of all of the stereotypical divorce stuff came – float from there, the parents fighting over me and all the stuff that you would expect in some of those acrimonious divorces you hear about.
Rick: Yeah. Could you share with our listeners, you mentioned earlier how from your deepest wounds came some of your greatest gifts, can you talk about if you can still pinpoint, what were some of those really deep wounds and stories and messages that you took on as a child that really led to what I would guess is a pretty fantastic divorce practice given where you've come and how empathetic that I hear it just in your voice? But what were some of those deep wounds?
Eric: The best thing I think I can share with you is a moment that I will never forget that runs with me forever. Being nine years old and my father who lived across the country was really trying to work his way back into my life and had forgotten my birthday. And a few days passed, had sent me maybe 50 birthday cards telling me how much he loved me, how sorry he was. And I was opening those cards in the kitchen, my mother, now they've been divorced many years, as I was reading these messages from my father, my mother was in the same screaming what a jerk my father was and using language that I can't use on air.
And so, the push-pull of that or sort of the if you can imagine the little boy in the middle with dad kind of tugging on one side and mom saying the complete opposite on the other and the messages that came from that of not – it was almost like a not trusting. It was hard for me to ever know or how to trust adults or trust – to really learn how to fully give myself in love. I am blessed to be married 23 years now but it took a lot of work to get there.
Rick: Did mom have – did mom remarry and was there a stepdad present also?
Eric: Yup. Mom remarried when I was five, a kind of a distant stepdad, a good man and I don't want to disparage him and I appreciate all that he gave to me. But it wasn't really until my father – he did some of his own kind of consciousness growth. He came back into my life when I was 11 really and I was so excited to have him back in that after spending a week with him, he fought in the courts to have me spend some parenting time with him.
And I avoid the word "visitation" and I think that's a nasty word. Parenting time, there's no such thing as a visitor. And I spent a week with him after this fight in the court. I came back to my mother and said I want to move in with my dad. This was when I was 11. And I never moved out. That was essentially it.
Rick: Wow! That's really fascinating. There are a lot of what I would say – what I would call prodigal fathers out there who leave home for whatever reason, their own issues and their own wounds that pushed them away and they take on these messages and they take on such guilt and shame that they can never come back, and how awesome for you.
And let's wrap up the segment and I'd like you to speak to the fact that it's really never too late, is it, for a dad to come in to a child's life even if they left for whatever reason. Speak to that, Eric. We've got about a minute left and we're going to wrap up this segment.
Eric: Yeah, absolutely. And I want to be careful and not just speak to dads but moms too.
Rick: Thank you.
Eric: In my practice now, not after 19 years, I see both sides of it. And pain can run very deep and I think as adults, we all struggle with whatever it is that's going on and we go unconscious of our kids. It happens to the best of us. But it's never too late to wake up and step forward back up. And my story is – my father is my bestfriend now. There's no question. And thank God he did do what he needed to do. Yeah.
Rick: That's great. I feel very fortunate today, I've got not only my son in the studio with me just came to observe and support me but my daughter is our co-producer today as well. And so man I tell you, I would love to offline, get your phone number and invite you back on the show maybe to help facilitate and maybe help hear other people that called down the road. Would that be something you'd be interested in?
Eric: I'd be honored to do it.
Rick: That would be great. And where are you calling us from?
Eric: From Connecticut.
Rick: Oh, you're from Connecticut. OK. So you're not just here in the Houston vicinity.
Eric: Nope. Nope. From – as I was saying, I listen to you over the internet. I think you're doing some great pioneering work and keep it up. Keep up the good work there, Rick.
Rick: Well, thanks so much, Eric. Once again everyone, this is Rick Goldberg with Divorce Talk Radio. You can call us at 713-212-5950. Our theme today is how did your parents' divorce impact you not only as a child but as an adult too? Stay tune after this break. We'll be right back.
[End] [0:10:03]
[Start] [0:14:52]
Segment 2
Rick: Welcome back everyone to Divorce Talk Radio. This is Rick Goldberg and it's a beautiful Sunday morning whether you're indoors or outdoors. I guess it all depends who you're with as far as how beautiful it can be for you right now in your life.
Al Green, boy, that takes me back junior high school I think.
Michael: Are you that old?
Rick: I am that old. I'm trying to become more proud of being that age.
Michael: That's a classic song and I like it. Ramon Robles is doing a wonderful job of producing because he does a billion things around here, picking up the songs. Very nice.
Rick: Yes. Let's Stay Together.
Michael: By the way, Michael Garfield here joining Rick Goldberg here for Divorce Talk Radio on a nice Sunday morning. The words of that song, Let's Stay Together, it sounds so simple and it's a beautiful song. It isn't that simple in real life, Rick. It's not. You have a few stats over here about keeping the family together and kids being raised, it's staggering.
Rick: Yeah. It really is staggering. And in particular, I read recently that 40% of all children growing up in America today are being raised without their fathers, 40%. That's just somewhat earth-shattering. And 50% of all North American children will witness the divorce of their parents and almost half of them will also see the breakup of their parents' second marriage.
Michael: Wow!
Rick: It doesn't get any easier the second time around.
Michael: It doesn't. By the way, the first stat you said next week being Father's Day. A lot of those fathers are going to get no gifts. So dads, why don't you get back with your kids, OK? So you can get that tie and golf ball set.
Rick: That's true. I remember when I was like 6 years old is when my parents got divorced. And I know I took on the story and I think it was true. I think it was the first one of my block to go through a divorce and it was really hard and was embarrassing. I didn't really know how to handle it. My parents really didn't know how to deal with it and how to prep me for it. So I know I took on a lot of stories and messages that I really had no business taking on as a young 6-year-old.
Michael: No, you're not getting those messages. And listen, I joke about your age because I remember the Al Green too. We're roughly the same age, Rick. But I mean growing up, let's go back to the '70s, so fewer people divorced as they do now. I remember only one of my friends, his parents had divorced and still he was probably even 15 or 16 years old but it was just weird hearing that word because no one did it. Very few people at least I knew did it.
And sadly, it's so common a standard. Fifty percent of all marriages right now, and with the second marriage, 70% somewhat percent.
Rick: Yeah, it goes up.
Michael: The kids are used to it versus I know we weren't used to it I know when I grow up.
Rick: Yeah, I know that. I was married to my kids' mother for 20 years and I know I was like committed that because my parents were divorced, I was committed. I was going to stay together or we're going to stay together. And things didn't work out. But I know that that was my goal and pretty proud of 20 years.
Michael: As you should be.
Rick: Yeah.
Michael: Even though it's no Al Green for you.
Rick: That's true.
Michael: But it's still good.
Rick: And everything obviously works out for a reason.
Michael: Exactly. You're still young. So there are people out there, I tell you. How about we got – let me remind people the phone number here. It's 713-212-5950. Thank you for listening in the Houston terrestrial area. But if you're listening elsewhere, thank you for downloading that free iHeartRadio app. We had a caller from Connecticut last segment. So wherever you go, iHeartRadio totally free, you can listen to Divorce Talk Radio with Rick Goldberg.
Where do you think Britney is from? Let's take a guess before we pick up. You think she's from Houston?
Rick: I'm going to go with Heights in Houston.
Michael: Oh, you're going specific.
Rick: I'm taking a wild guess.
Michael: OK. I say she's terrestrial here. So Britney, how are you? Welcome to the show. Where are you calling from?
Britney: Sugar Land.
Rick: Where Britney?
Britney: Sugar Land.
Michael: OK, Houston area.
Rick: Sugar Land, OK. So I just lost a dollar to Michael.
Michael: Shoutout to the Southwest side.
Rick: Britney, thanks for calling this morning. You heard our theme. I take it you came from divorced parents?
Britney: I did, yes. Actually, I was raised by my mother and stepfather but my stepfather was a part of my life from very, very early on and she had been divorced actually only about four years ago. So I was in my late 20s.
Rick: I got you. So, how did your parents divorcing when you were so young? How did that impact you as a child?
Britney: Well, it was her first marriage. It wasn't really one that I have much memory of to begin with. And so being raised by my stepfather, I felt that he was my dad in every sense of the word. But when that marriage ended, and I guess being an older child of divorced parents, I think I felt more embarrassed than – I was old enough to be able to deal with the emotion of what was happening between them but I was a little embarrassed as an older child to say that my parents were divorced.
Rick: And what were you embarrassed about?
Britney: Wondering why – I think for some people, they knew that it was my mother's second marriage and wondering why it again didn't work out. Embarrassed because I was older, people felt that they could – they weren't afraid to ask me questions about it and I was somewhat expected to divulge their dirty laundry. And I would have to or when I chose to divulge some of those details, that part was a little embarrassing. Even now with my parents are dating, it's a little odd to say my mother has a boyfriend or my father has a girlfriend.
Rick: And how old are you, Britney?
Britney: I'm 31.
Rick: OK. So as a 31-year-old, what is it kind of like watching your parents who have gone through a divorce sort of reentering the dating world and starting to date again? Share a little bit with our viewers what that is like for you.
Britney: It's – I feel like I've somewhat taken on a little bit of that parental role now. I'm very protective of my mother and the people that she brings into her life even though she's in a serious somewhat relationship now. I found myself asking her the same questions that she asked me when I was dating.
Rick: And what are some of those questions?
Britney: Well, does he have a steady job? What are his intentions? Of his background, why is divorced? What was it that didn't – what was the reason it didn't work out with him and his wife? Is that something you want to get yourself into?
Rick: So you're doing a little vetting, I see.
Britney: Yeah. Yeah, I think so.
Rick: Making sure mom ends up with a good fellow. And so, you're doing the same thing for your stepdad as well?
Britney: Actually, no. My dad's girlfriend, she is the reason my parents got divorced. So I'm on a much different path with that right now which I'm still struggling with. My dad had an affair for quite a long time and he is still with the woman that he had an affair with. And I do believe everybody deserves second chances and I do believe that he is sorry for the way things happened. I do believe that he does love this woman but we're struggling right now with how she should be a part of our lives.
Rick: Does it make it any easier that I know affair, that's never easy, but does it make it any easier for you that he's still with her to show that maybe there's more commitment than just a casual fling?
Britney: I don't know. I'm pretty religious and so I keep going back to my Catholic faith and part of me – I almost think that had it not worked out with her and if he was with someone completely different right now, I'd be much more open to that person. I'm struggling with the fact that he's still with someone who was a part of the heartache that we endured.
Rick: So what do you think you have to do, Britney, to get over that hurdle of accepting your stepdad and his choice and just being OK with that knowing that that's his life and their life and it's really not about you? What do you – what's next for you to get over that hurdle?
Britney: That is the million dollar question. I talk about it with a lot of people actually. What has happened between my parents is really not much of a secret anymore. So I do – I ask everybody, every faith and in every opinion, and I don't know. I don't know the answer to that. I literally go back and forth every day.
Rick: Britney, we're just about 30 seconds away before we're going to wrap up this segment. But have you just really talked with your dad and just given him really all of your opinions and all of your judgments about what he has done just so you can like clear it out of your body?
Britney: I have. We actually did that about a month ago ironically. And he understands and he and I are, we're trying to work on it together. He is open to my feelings. I'm open to his. And it is a step by step process.
Rick: Well, I really – it takes a lot of courage to do that and you're really right on the right step. The more you – in my opinion, keep talking about it. I think I hear your little baby in the background. As long as you keep talking about it and you get it out of your body just sort of into the ether, a lot of that guilt and shame that I think you might be carrying around really all the way from childhood will just really take you to new heights. So Britney, thanks again for calling. I really appreciate it. Come back. We're halfway through with Divorce Talk Radio with Rick Goldberg. See you on the other side.
[End] [0:24:03]
[Start] [0:27:48]
Segment 3
Rick: Hello everybody. This is Rick Goldberg and welcome back to Divorce Talk Radio.

Michael: Can I say it's dancing Rick Goldberg over here to Jackson 5 on a Sunday morning?
Rick: Is that song I Want You Back?
Michael: I Want You Back. Obviously, we're a in a divorce talk and I Want You Back, we're talking – I see the theme. Ramon is working early in the morning and he's pulling stuff out that you should never think of.
Rick: That song was so far before my time. I couldn't tell if it was ABC or I Want You Back. Another one, Ramon is he said, "Stop, I love you. Say maybe …" there you go because he never knew Michael Jackson and they were so deep back in 1969, 1970 as we bring Michael Garfield here with Rick Goldberg.
Rick: Well, welcome back everyone to – let's get back to business. I know we have a lot of listeners out there and a lot of people who are wanting to call in. I mentioned earlier in the earlier segment that my son was in the studio with me today and he just went from the producer side. He came in the studio. He put his headphones on. So joining us for this segment is my boy, Clayton Goldberg who is a drug and alcohol addiction counselor here in town. Clayton, welcome to the show.
Clayton: Glad to be here. I couldn't resist.
Michael: Are you proud of daddy or what?
Clayton: Oh yeah.
Michael: Are you proud of your son, Rick?
Rick: Of course.
Michael: OK. And your daughter also.
Clayton: These are all the right answers.
Michael: OK, just making sure.
Rick: Before we take the next call, Clay, in your practice, do you come across couples or individuals that are going through addiction issues and struggling with divorces like where divorce is another layer on top of the issue that they have to go through with whatever addiction they are grappling with?
Clayton: Yeah. I think a lot of times it's what came first, the chicken or the egg? The divorce or the other issues kind of sparked that along or did the alcoholism or the addiction caused the separation and lead into that? So it can be really difficult to kind of tell what the difference is between the two and which one to work on. But yeah, it comes with the territory.
Rick: And how tough is if for people recovering, in your experience, recovering from addictions who have to go through periods where they don't get to see their children because of the addiction or when they do get to see the children, it's under supervision? How much do they struggle with that?
Clayton: I'd say quite a bit. A lot of times, the focus should be on getting themselves right, getting themselves healthy so that when they are ready to see their kids or when that moment does come, it comes naturally and it's not, "Oh hey, I'm in treatment and I'm working on myself for my kids." Because the kids are going to be grown up one day. They can't rely on that motivation only.
So I'd say if anything, them working on themselves but also paying attention to the fact that there are still kids there and see where that connection leads to.
Rick: That's great. It's so fun as a parent. Michael, I don't know if you get to experience this but I get to learn so much every day from my son when I talk to him. And it's fascinating because things turned. There's a stage in our lives as parents where we're doing the teaching and then there's just shit somewhere in life where all of a sudden we're doing the learning.
Michael: Here's the difference between you and me though. I mean your son obviously is working for drug and alcohol addiction stuff, so my kid is a little younger, I learn about bad words and rap songs. That's what I learn from my kids right now when they are 16. So maybe one day I'd likely get some really good advice from my kids.
Rick: Well, let's go to Lindsey who is on line 3 right now. Lindsey, welcome to the show.
Lindsey: Hello. How are you?
Rick: I'm doing good. How about yourself?
Lindsey: I'm great.
Rick: Well, thanks for calling in this morning, Lindsey. Have you listened to the show before?
Lindsey: I have. I have.
Rick: And what do you think?
Lindsey: I think it's awesome. That's why I'm calling.
Rick: All right. We love that. We're trying to take the shame and the negativity out of the word "divorce" too. It is I think stereotypically a bad word and I don't think it has to be. I just think it's one of those chapters in each of our books of life that gives us new learning opportunities down the road.
So, did you come from a divorced family, Lindsey?
Lindsey: I did come from a divorced family. And Clay can probably shed some light on this. But when I was really young, my parents used drugs and alcohol and got divorce when I was really young. I was two years old when they got divorced. And so, I do. I come from parents that divorced at an early age and they were young themselves.
Rick: How did that – if you can remember, how did that make you feel and how did it impact you, Lindsey, when you were a young girl like that and your parents when through a divorce?
Lindsey: I went with my dad. My mom kind of continued on her path and got even deeper into drugs and alcohol. And then so I went – I lived with my dad and he kind of went back and forth with alcohol throughout my childhood. And then when I was 15, he left and I lived by myself with my brother. My brother was 16. I was 15.
And as a result of that, I think I gravitated towards unavailable men and relationships, kind of try and just sought for that relationship I never had with my parents. And so, I struggled with that. And I worked really hard to try and do it a little differently. But I would think – I think that's probably the biggest thing that kind of manifested itself through my parents being gone and unavailable. I really struggled with having relationships like healthy relationships with available people because that wasn't my experience growing up. It wasn't really modeled to me. So it has been a struggle for me.
Clayton: Hey, Lindsey. This is Clayton. How are you doing?
Lindsey: Hi, how are you?
Clayton: Good. Good. I'm glad that you called. And thank you so much for sharing all this with us.
Lindsey: Yeah, absolutely.
Clayton: I had a question for you if you're comfortable answering it, it would be great. I guess how did it impact you to have to make a choice back then? You said you kind of gravitated more towards your dad than your mom because she kind of spiraled a bit. What was it like to make a choice like that?
Lindsey: Honestly, I don't remember being given a choice. I just went with my dad. I think my mom grew up in a home with a kind of – she didn't have her mom around and so she kind of didn't know how to – didn't have a mom, didn't know how to be a mom so she kind of took off. And my dad actually took charge. And so, I really don't remember having a choice about the matter.
But when he left when I was 15, I really didn't get a choice there either. So – but it didn't feel good, that part of it.
Rick: So Lindsey, envision that you could be in front of a small group of parents right now who were just like your parents and they had children just like you were at that age, what would you tell them? What advice would you give them now having now gone through the years of growing up? What would you want them to hear about how they should stay in touch with their kids and raise them and do what they need to?
Lindsey: Well, I just – I think most importantly, it's not easy but you have to put your needs aside for your kids sometimes. And I know it's easier to sometimes – we all want to do what we want to do. But when you bring kids into the world, I think it's your duty and obligation to really put them first.
And my parents because of maybe drugs or alcohol or whatever it was, whatever distraction, didn't do that and they were young and didn't have the best tools. But it's not an excuse to – and so my suggestion or advice would be put them first and even in the relationship. Don't use your children as a tool or a way to get back at somebody. Make sure you put their needs first. And I didn't have that. So I would definitely think that would be something that would be a good advice to give parents.
Rick: Thanks, Lindsey. We've got about another minute or so before the next break. Clay has got a question for you and then we're going to wrap up.
Lindsey: Sure.
Clayton: Lindsey, so I guess you said earlier you don't really think you had a choice back then. If you had a choice on how show up for other people and in your relationships today, what would that choice look like?
Lindsey: I mean I think I make choice every day to try to be present, available. I don't use drugs and alcohol. Health and fitness is really paramount in my life. So I think that choice looks like being the kind of person that I would have like to have had in my life as a young person. With friends, with family, with people I date now, I think I really show up and try to put my best foot forward.
Clayton: That's so awesome. So obviously, you see better for yourself.
Lindsey: Absolutely.
Clayton: Very cool. Thank you so much, Lindsey.
Rick: Thanks Lindsey. And I want to thank you for calling and we've got one more segment to go as we are enjoying our Sunday morning on Divorce Talk Radio. You don't have to be divorced or going through a divorce to listen to the show. I'm sure plenty of people got plenty of friends out there that are in that experience too. So stay tune. We'll catch you right after some announcements from our news department.
[End] [0:38:03]
[Start] [0:42:33]
Segment 4
Rick: Welcome back everyone to our final segment of Divorce Talk Radio. This is Rick Goldberg. Michael Garfield is in the studio with me as usual.  
Michael: Good morning.
Rick: And I've got my son, drug and alcohol addiction counselor Clayton Goldberg, with me too.
Clayton: Hello. Hello.
Rick: So it has been a really intriguing topic this morning. We've been talking to callers who are adults today but as a child, their parents were divorced and they're sharing some of the issues and some of the ways that the divorce impacted them as a child and maybe how it's spilling over into their adult life.
And we have Jen on line 3, probably our last caller of the day but we want to give you everything we've got Jen. Thanks for calling in this morning.
Jen: My pleasure. Thank you for having me.
Rick: Hey, are you – where you calling us from?
Jen: I am calling you from right outside of Houston.
Rick: And where is right outside of Houston?
Jen: The Richmond area.
Rick: OK. Well, welcome to the Richmond/Rosenberg people.
Michael: Fort Bend represented this morning. I like that.
Rick: Fort Bend.
Michael: Sugar Land, this is awesome.
Rick: Don't you live down in Sugar Land, Michael?
Michael: Fort Bend and Sugar Land, yes sir.
Rick: We know that Michael lives down there because whenever we want to get together, we always make Michael drive into the city.
Michael: Which is not fair.
Rick: We never say, "Yeah, and let's come to Sugar Land to go out and have a beer or two."
Michael: Jen, we'll show him some fun places, fun things to do in Sugar Land and in Fort Bend. Come on out, Rick.
Rick: So Jen, what we're talking about today is how did your parents' divorce impact you as a child and how might it still be impacting you today as an adult? So, why don't you let us know how you were impacted as a child?
Jen: OK. So the short story of all this is, is that my parents first got divorced when I was about four years old. And a few years down the line, in order – and they were very still much deeply in love with each other but they wanted to – they tried to get back together for my sake. And so, I have a unique perspective on both sides of that, as actually going through the divorce plus the aftermath of coming together for direct affiliation.
And I must say what did happen with me is I developed quite a few insecurities and not understanding of where my place was in this world and dealing with the constant bickering and the chaos. And I for the longest time especially as a child and into my adulthood equated love with chaos, love with fighting, love with just all kinds of things that I thought that that's what excitement meant in love. It had to be chaotic and just difficult to deal with.
Rick: Now Jen, just – I want to make sure I understand. When you were four years old, your parent actually did go through the divorce and split up then they basically decided to reconcile and get back together for the purpose of being there for you. Did I get that right?
Jen: Yes.
Rick: OK.
Jen: Yes, that was their verbal statement.
Rick: I got you. What were – you mentioned some insecurities, what were some of the insecurities that you experienced as a child?
Jen: Well, as a child, of course you have very limited vocabulary to articulate all of that. But I really self-invincible at that time and even though I would have – for some reason, my elementary school pulled me out of class because I was an overly sensitive child because of it and started talking to me and doing feelings workshop and things like that.
But I think the invisibility was a huge theme for me growing up and feeling like I wasn't – my presence wasn't wanted.
Rick: And so for you, if you were experiencing invisibility, what's the underlying feeling associated with that?
Jen: Right to this day, I think you should call me that, Rick. I'm not quite sure what the exact feeling was, maybe loneliness.
Rick: Loneliness? Well, do you think it was maybe a little sadness and maybe even some anger too?
Jen: I don't know precisely about the anger but I might agree with you on the sadness. Absolutely.
Rick: So you felt sad and certainly at that age, I'm sure it was very difficult for you to express that to your parents.
Jen: Definitely. And they had so much going on in their life. They weren't in a place to hear me as it was. So – and plus being a child, some parents tend to discredit children's feelings because children can have a tendency to be overly emotional.
Rick: Yeah. And so, you had mentioned that for you and your world, love equaled fighting. So was that on the first side of their marriage or once they got back together again or did it ever stop?
Jen: It never truly stopped. And it was sheer – I mean just pure chaos. Absolutely.
Rick: So, sometimes a lot of those things that we experienced in our childhood, if we don't heal them, follow us into our adult lives. And so, maybe can you share with our listeners and maybe I'll ask you to get really vulnerable in this particular share, but did some of that – has some of that followed you into your adult life or even in your relationship world as far as love equals fighting where – can you talk a little bit about that?
Jen: Absolutely. And I don't mind being vulnerable about this topic, Rick, because I have done a lot of works and healing around it. So it did. It did. It felt like it was chasing me throughout my teenage life and into my adult life especially in my romantic life.
Even though I was educated and I considered myself intelligent, I had really hard time maintaining good relationships with men. I acted out of integrity for myself and I would find ways to spin a cycle of that once things would be really good with a man. I'm friends with my ex-husband. Things would be really good. Things would start to go a little stale and then I would initiate some kind of fighting to get that excitement back so that then the make-up sex could happen and then we could start all over again. But eventually, that cycle ends up breaking you and breaking your relationship.
Rick: You certainly woke Michael up when you talked about relation and break-up sex.
Michael: Hello. Good Sunday morning. Nice to meet you, Jen. Well, you should live in Fort Bend County, Rick. It's as simple as that.
Rick: So you're finding – were you just sort of in a cycle, a vicious cycle of this kind of just repeating itself time and time again?
Jen: Say that one more time, Rick?
Rick: Did you find yourself like in a cycle, you mentioned that you're divorced now, is that right?
Jen: Well, I'm actually remarried.
Rick: And you're remarried. So in that first marriage, did you find yourself like in a cycle of going through that not getting the love so better create some fighting so that I can re-experience love and then it just goes round and round and round?
Jen: Precisely. We did that cycle, I can't tell you how many times until it blew up in our face. And I see that a lot with the women I help these days as well.
Rick: Yeah. And I would think that there are a lot of men and women that experience a lot of the same things. So, why don't you share if you could, how do you do it differently now?
Jen: For the first thing, you have to take a step back from it and look at it and realize that chemistry, excitement and love, being in love doesn't have to equate to chaos. That's the first thing you have to admit that you're going to have to put on your creative thinking cap. And for some of us, with all the responsibilities that we've got going on, I admit it, it's difficult to do at first.
And I want you to take a step back from that and say, "OK, if I get creative about this, if I even get romantically creative about this, where can I go?" You're going to open up an avenue that you never even considered exploring before with your partner. And that's what I did.
So, as I was leaving my marriage, I decided to open an avenue up in my dating life and do dating differently than I had ever done before which led to my husband now and a very magical marriage with him.
Rick: That's fantastic. So maybe now love instead of it equal fighting, it equals compassion, magic, togetherness, caring, words like that. Jen, really, really appreciate you calling in and sharing this morning. Not only are you sharing your story but I really believe that you're sharing a lot of other people's story at the same time.
We are about at the end of our hour here at Divorce Talk Radio. Michael, I want to thank you again.
Michael: Yes, Rick, good job. Great to meet your son. I think we got a co co-host in here anytime he wants to come in.
Clayton: Oh, that's awesome. Thank you all.
Rick: So stay – we really appreciate it. Have a great Sunday everybody. And you can catch us next week right here on KPRC 950. Also, on iHeartRadio, the app that you can listen to around the world. For Michael Garfield, this is Rick Goldberg telling everyone stay connected and have a fantastic Sunday.
Michael: And the show is over.
[End] [0:52:12]
[End of transcript]